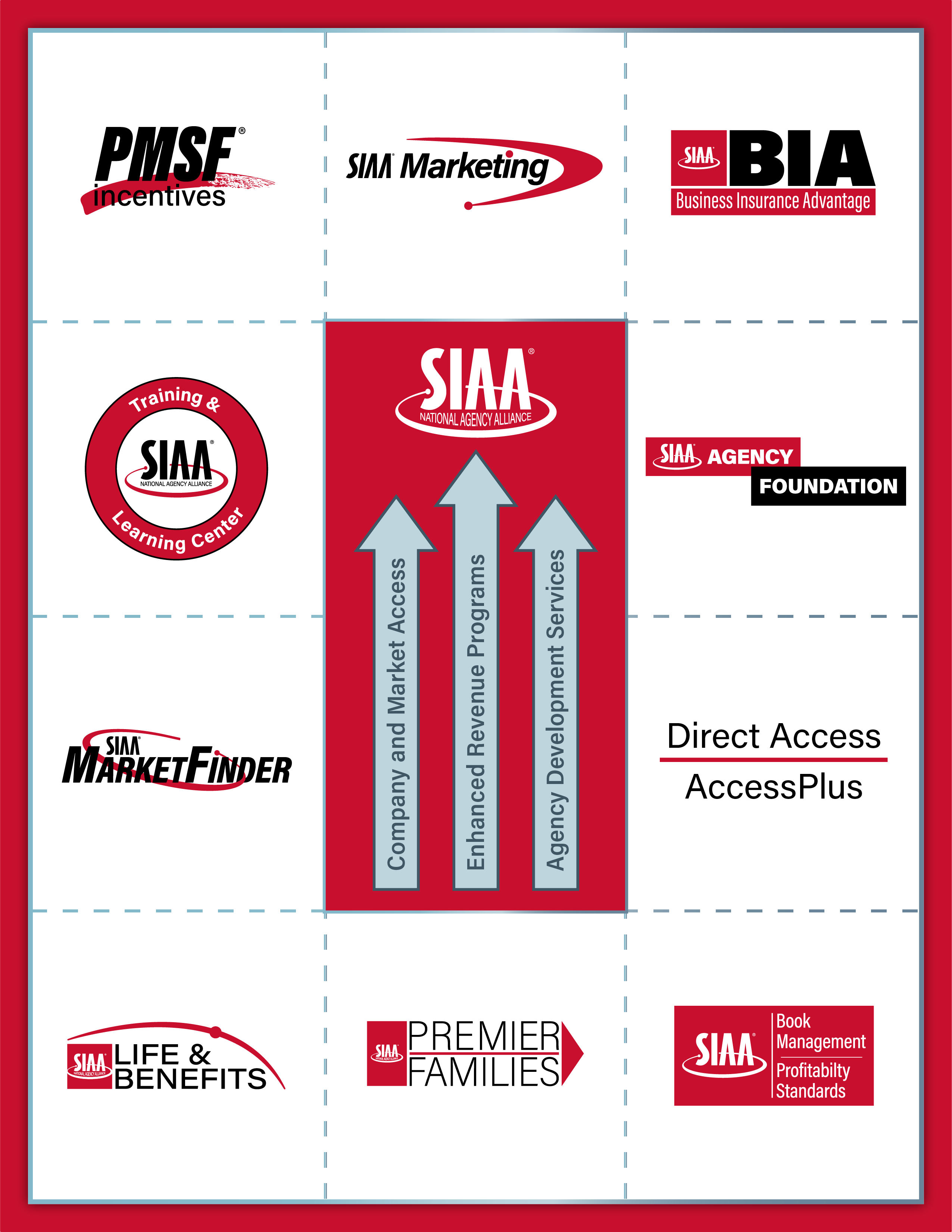 Benefits
View the SIAA Overview Booklet to get a sense of our history and scale.
As part of the Tague Alliance network, your existing or new agency will benefit from a wealth of opportunities available to SIAA Independent Strategic Members. Those that qualify to join as an Independent Strategic Member have the ability to:
Become instantly BIG and enjoy the stability and advantages of membership in SIAA, a multi-billion dollar, international insurance distribution network of over 4000+ independent strategic agencies signed! SIAA writes over $8 billion in premium with our carriers and this supports the Tague Alliance members locally due excellent relationships on both the local and national levels.
Access the Master Agency's top-rated, competitive insurance companies and markets!
Grow and significantly increase agency income and value!
Compete against and WIN business in your region!
Receive supplemental commissions, profit sharing, and Portfolio Management Service Fees!
Access ongoing insurance programs exclusive to SIAA Agencies!
Attract quality producers that have more time for selling!
Receive automation & agency management system discounts!
Determine the perpetuation of your agency!
Participate in topical, regional networking meetings!
Receive training in various lines of insurance as needed!
Receive administration, sales and marketing assistance!
Participate in SIAA's Consumer Web Site, www.insurancedeals4u.com (ID4U), which drives consumers
to SIAA Agencies and is the only one of its kind in the U.S.
Receive discounts on office supplies with Staples and shipping with Fed Ex!
More importantly, as a SIAA Independent Strategic Member, you remain completely independent, continuing to own and control your own agency. For Tague Alliance, SIAA and our Member Agencies, it's all about creating more opportunities for independent agencies to compete and thrive in today's dynamic insurance environment.
We would love to speak with you to see if we are a good fit for each other.
In our member's own words…
| What are some of the benefits of joining Tague Alliance and SIAA? | |
| --- | --- |
| Patrick S –          Having the ability to build book with Tague and then roll it to direct appointment with carrier. | |
|  John R –            Education, commissions, and markets. Also, you cannot discount the people who are helpful, knowledgeable and work together to give you the best possible result. | |
|  Steven G –         Leverage with carriers, access to appointments | |
| Eddie B –            Resources/ mentorship | |
| Ely S –                 Access to coverage | |
| John C –             Availability of numerous insurance markets, having a home based office | |
| Tim B –               Group Power and Direct Appointments with Quality Carriers | |
|  JoAnn S –         Agency resources | |
| Sean M –            The ability to bounce things off and of course access to markets that matter. | |